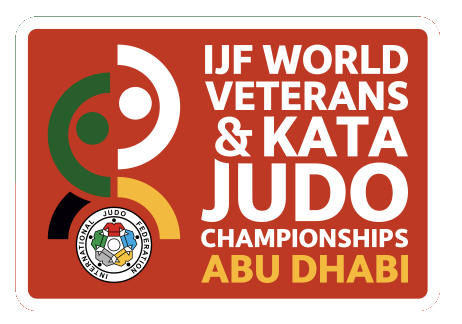 ABU DHABI - From October 31 to November 3, the World Judo Veterans Championships took place in Abu Dhabi. Nine judokas defended the Belgian tricolor there. Dirk Vandevoort crowned himself World Champion! Ermanno Agostini and Osman Hanci took silver and bronze respectively. Arne Dewulf and Philippe Lauria just missed the podium and had to settle for fifth place.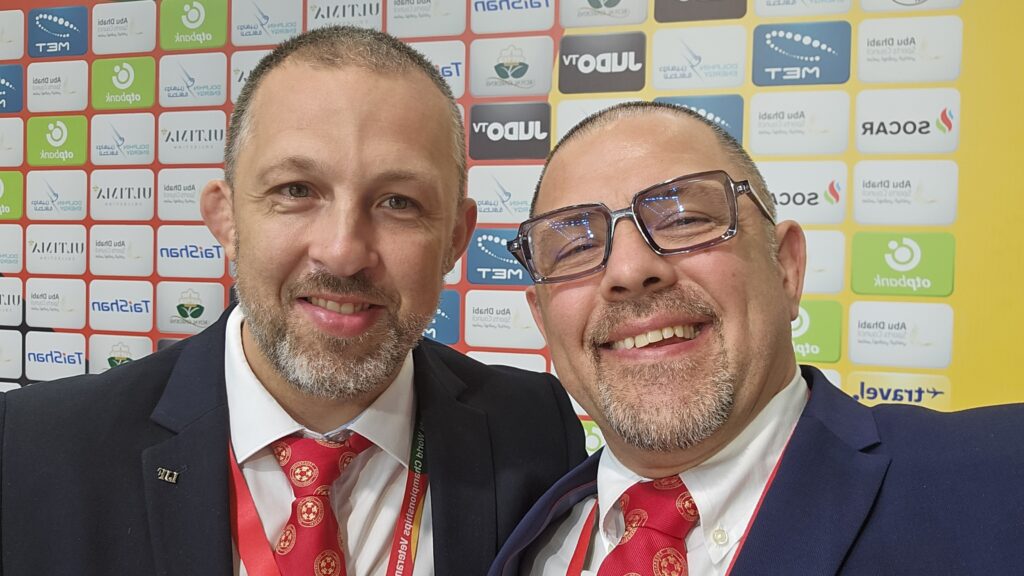 Prior to the World Veterans Championships, the World Kata Championships took place on October 28 and 29. The 2 Belgian participating couples, Yves Engelen-Dimitri Closset (JWB) in Kodokan goshin jutsu, stranded on a fifth place in the preliminary round, Nicolas Gilon-Jean-Philippe Gilon (JWB), in the katame no kata, stranded just next to the podium on a fourth place in the final round.
Dirk De Maerteleire (JS Merelbeke/JV) succeeded in obtaining 4 IJF kata judge licenses in one go, namely nage no kata, katame no kata, kime no kata and Kodokan Goshin jutsu. In addition to Dirk, Dimitri Nemegaire (IJF Kata IT Team) was also present.
Veterans matches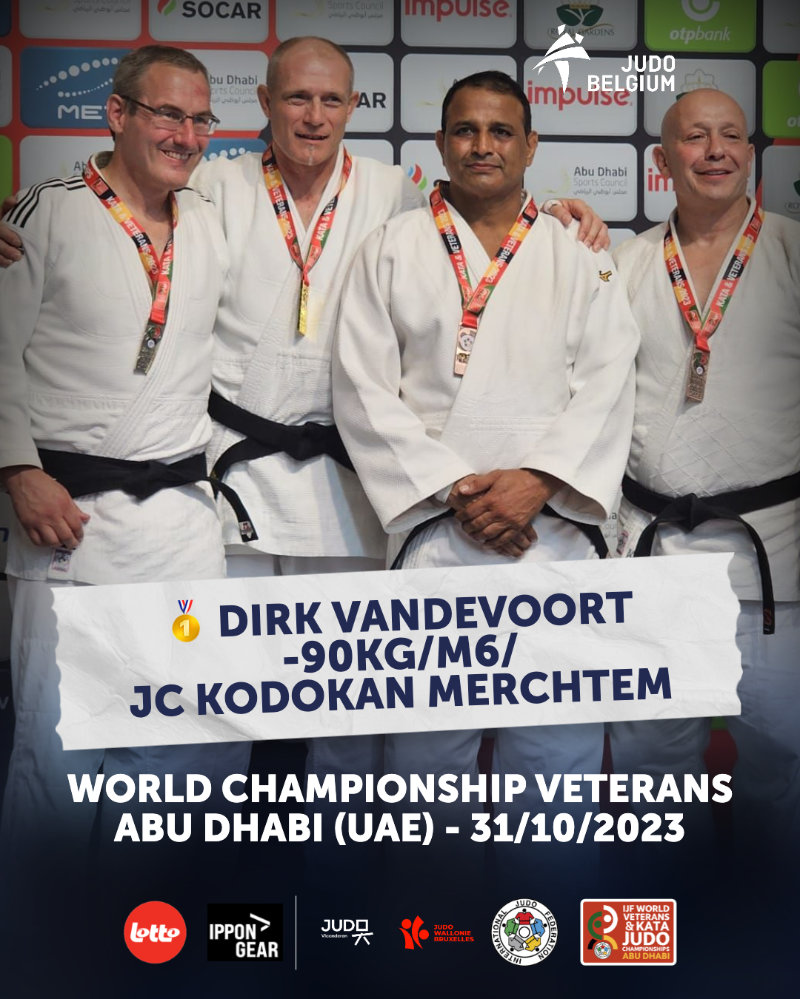 Ermanno AGOSTINI (-60kg/M5/Royal Brussels Judo Institute) – SILVER
Round 1: Victory vs. Christophe Le Pestipon (FRA)
Quarter-Final: Victory vs. Zhassassyn Smbayev (KAZ)
Semi-Final: Victory vs. Patrice De Lavau (FRA)
Final: Defeat vs. Sofiane Djadri (FRA)
Antonino MILIOTO (-73kg/M1/JC Ittre)
Round 1: Bye
Round 2: Victory vs. Murat Kurbanov (KAZ)
Quarter-Final: Defeat vs. Victor Martin (FRA)
Repechage 1: Victory vs. Zhassulan Ziyadenov (KAZ)
Repechage 2: Defeat vs. Bakhrom Inoyatov (UZB)
Philippe LAURIA (-73kg/M2/Royal Judo Poséidon) – 5th PLACE
Round 1: Bye
Round 2: Victory vs. Kamilzhan Narmetov (KAZ)
Quarter-Final: Defeat vs. Bayarmagnai Chinchuluun (MGL)
Repechage: Victory vs. Djumaniyazov Davronbek (UZB)
Repechage: Victory vs. Romain Daval (FRA)
Bronze: Defeat vs. Levan Chubinidze (GEO)
Arne DEWULF (-73kg/M3/ JS Merelbeke) – 5th PLACE
Round 1: Victory vs. Atanas Vanev (BUL)
Round 2: Victory vs. Bakhruz Aliyev (KAZ)
Quarter-Final: Victory vs. Julien Pinel (CAN)
Semi-Final: Defeat vs. Krzysztof Wilkomirski (POL)
Bronze: Defeat vs. Daulet Akkozhin (KAZ)
Drilon TAFILI (-81kg/M1/Royal Judo Poséidon)
Round 1: Bye
Round 2: Victory vs. Hugo Duniaud-Prieur (FRA)
Quarter-Final: Defeat vs. Nauryzbek Mailashev (KAZ)
Repechage: Victory vs. Piotr Pojawa (POL)
Repechage: Defeat vs. Orkhan Hajiaghali (AZE)
Gunnar DE LAET (-90kg/M1/JS Lummen)
Round 1: Defeat vs. Zaza Davadze (GEO)
Osman HANCI (-90kg/M2/Royal Judo Poséidon) – BRONZE
Round 1: Victory vs. Daulet Yesdauletov (KAZ)
Round 2: Victory vs. Sonny Domiquin (FRA)
Quarter-Final: Defeat vs. Paata Ghviniashvili (GEO)
Repechage: Victory vs. Aleksandrs Lescinskis (LAT)
Repechage: Victory vs. Cyrille Campello (FRA)
Bronze: Victory vs. Vitalie Ursu (ITA)
Fabian VANHOLLEBEKE (-90kg/M3/Judo Top Niveau)
Round 1: Victory vs. Ramil Muradov (AZE)
Round 2: Defeat vs. Sergei Marmeljuk (EST)
Repechage: Defeat vs. Lasha Mikaberidze (GEO)
Dirk VANDEVOORT (-90kg/M6/JC Kodokan Merchtem) – GOLD
Round 1: Victory vs. Olaf Rodewald (GER)
Quarter-Final: Victory vs. Aldair Junior (BRA)
Semi-Final: Victory vs. Konstantinas Livas (AUS)
Final: Victory vs. Robert Endras (GER)